Welcome back! Today, i thought that we would continue on with this Halloween theme. I mean it only lasts for so long, so we should just get as much in as possible. Right? Anyways, what true Halloween Season is complete without watching all of the best films. Well, I'm here to tell you my ten favorite films to watch to get me in the Halloween spirit.
10. A Nightmare on Elm Street (1984)
You can never go wrong with A Nightmare on Elm street. If you're looking for a good scare, I would turn off the lights, grab a drink and a cozy blanket, flip this movie on, but most importantly don't forget to lock your door. Also, make sure that you're watching the original! There was a remake years ago, and let me tell you, I was less then impressed.
9. HalloweenTown
Okay, okay, I know you're probably wondering why this would make my top ten list. While it may be cheesy, is there any other way to really get you in the Halloween spirit? There are pumpkins, witches and goblins galore! If I'm being completely honest with you, I love cheesy Halloween movies. This is something that I watch multiple times through the months of September and October. Check it out and see if you're motivated to start decorating your home!
8. Scream
Who doesn't love a good scream? I'm pretty sure everyone on planet earth has seen at least one of the Scream movies. If you haven't your missing out and you should check it out! Heck, have a screening party, get some cider (with or without alcohol), grab some snacks and throw a few blankets around. You're sure to have a good time. I would consider these films to be classics, and they are apart of my Halloween routine.
7. A Nightmare Before Christmas
Whether you're a child or an adult this is a film you're sure to love. If you're looking for a kid friendly film, put this one on, turn on some Halloween lights and enjoy that quality time. I do not have a kid and this is still a staple in my house. Who doesn't love a Tim Burton movie?
6. The Craft
Ahh, The Craft. What yells Halloween time more than a few witches? If you have not had the pleasure of viewing this film, please find way to watch it. . . today! It's not a super scary one by any means, but it's also a classic.
5. Practical Magic
Speaking of witches, how about some Practical Magic? You know, I don't remember watching this one as much when I was younger. However, within the last few years I grew to love it. I'm sure everyone has heard of this film and it's definitely older, but there's something about it that makes me feel like it's Halloween all year around. Could witches be real? Maybe. . .then again maybe not.
4. Unrest
So you may not have heard of this film. But let me tell you, when I was in high school, a friend and I found this five dollar movie and decided that we would try it out. Keep in mind that we were very familiar with horror films and we did't get scared very much. We made it about half way through and we had to turn the lights on. Obviously, this is still one of my favorite movies today. It's a very subtle scare, as in it's more creepy than anything. But if you're looking for something new and you want to be spooked down to your core, check out Unrest.
3. Sleepy Hollow
An all time classic! I've been watching this film since I was a kid. Which is probably why it's so far up on this list. Who can resist a movie with a headless horseman? This film is sure to get you excited for some Halloween scares.
2. Halloween
Oh, Michael Myers, how you've been a staple in households across the world and haunted houses for years. If you haven't seen this movies, one you must be living under a rock and two, who do you think the person in white mask is chasing you out of that Haunted House? If you're going to Haunted Houses and you haven't seen Halloween, please do yourself a favor and go watch this first.
1. Hocus Pocus
Yes, my number one film is Hocus Pocus. You're either thinking 'this is awesome' or something like 'how could this be her number one film?' Well, it's the ultimate Halloween film. It's a classic and it plays almost every single day in my house during this season. Yes, you read that right. Every. Single. Day. I'm not ashamed, it's by far the best movie to get you in that Halloween Spirit.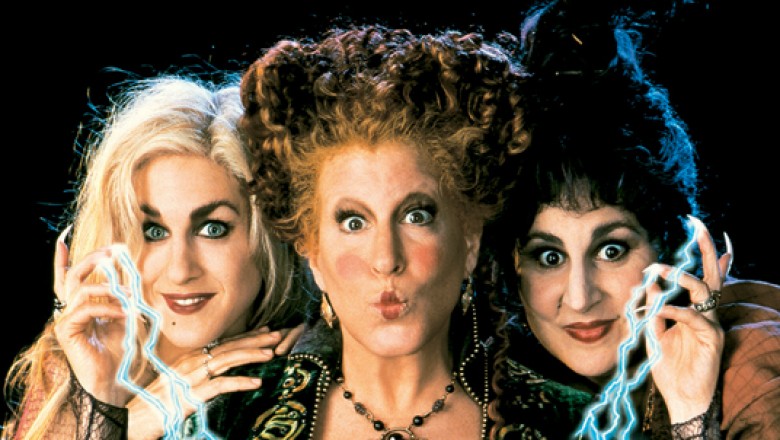 Well guys, that's my top ten movies to get you in the Halloween spirit. Now that I've talked about them so much, I think it's time for me to go have a marathon.
Till next time,
Victoria